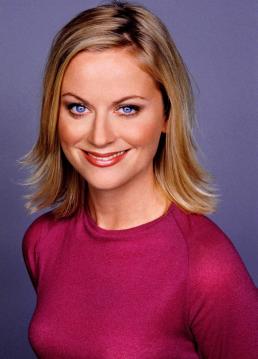 I've been thinking a lot about Amy Poehler lately: I think she's the new Will Ferrell. Amy has been on SNL for a few years and I think that right now, in the absence of a true comic alpha male, she has become the dominant force on the show. She's in nearly all the sketches. She can play it straight or go for the laughs. She is the woman behind one of the best new characters, Kaitlin, the hapless tween (right up there with Starquisha and Debbie Downer). She does it all. She is the glue that holds the show together - petite, blonde, shapely blue-eyed glue, y'all.
When I was taking improv classes at the UCB I saw Amy a few times in different shows, and she was the most endearing thing on two legs. She's funny, smart, and good-looking. She can do a lot of accents, she's good with prop work. One of the only lines I can remember from an improv show was when she was playing a wacky detective and described her technique as "sensalytical." I know improv stories don't translate well, but I almost peed myself at the time.
So that's that. I love Amy Poehler and I think she is the alpha and omega of Saturday Night Live right now. That's all I have to say - I just wanted to put this out there to pander to her and write about some happier things.